The exterior design of a home is very important, as not only will it improve your day-to-day pleasure when spending time outside, it will also bump up the curb appeal! There are both simple tweaks and big changes that you can make, from repainting your front door to opting for larger scale renovations.
If you're looking to renovate your home exterior, give Stonik Services a call. With many years in the construction business, we can offer you advice, explore your options with you, and carry out the work to give your property the facelift of your dreams!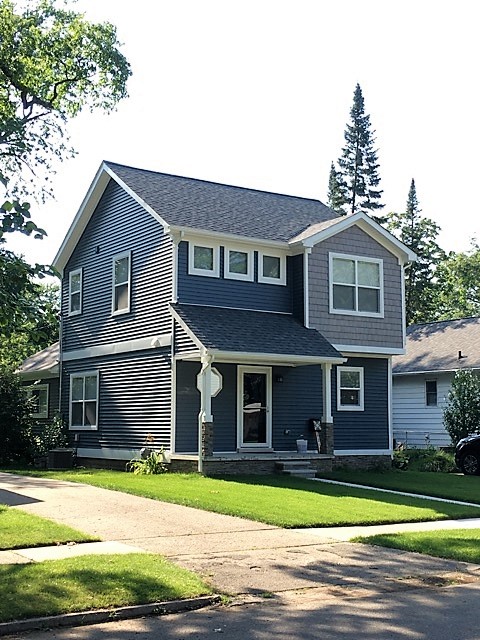 Renovation Options For The Exterior Of Your Home
Going beyond a simple paint job of your home's exterior, there are a variety of other routes you could take. We will explore some of them below, but if you do have any other ideas, please do let us know, as we will do everything we can to be able to accommodate your personal vision.
Change Your Home's Proportions
To increase the size and functionality of your home, you could change the proportions of the building. You can do this by extending your house upwards, perhaps with a third or fourth floor, and you could also extend your house outward. With an extension, you would have room for guest bedrooms, extra bathrooms, new living spaces, and so much more! The possibilities are endless!
Planning permission might be needed, however, and you will need to be careful that you don't encroach on the living space of your neighbors. If you are given the go-ahead, you will have the extra space in your home for whatever purposes are meaningful to you.
Swap The Exterior Finish
There are a number of reasons why you might want to change the exterior finish. For one, you might want to choose something a little more modern if your cladding is outdated. Or you might want to create a style that is more in line with the area you are living in or one that suits your tastes more than the current exterior finish. You might also want to replace any mismatching bricks and materials to give your home a more consistent look.
Rendering or repainting your home's exterior can do much to give it a facelift, but cladding it will make a dramatic difference. Your options include:
uPVC cladding
Timber boarding
Laminate cladding
Stone tiles
Metal
Fiber-cement weatherboarding
Do your research beforehand and look for the types of cladding that suit both your home and your budget. While not an extensive guide, there are some pros and cons of different cladding types here that might prove useful to you.
Replace The Roof
The roof is a dominant feature of your home, so with a new shape or brand new look, you could do much to improve the style of your home's exterior. Of course, it's not all about appearance. A new roof can also replace something that has been subject to a lot of weather damage. An insulated roof can improve your home's energy-efficiency considerably. You will also need a new roof if you are opting for a vertical extension, and it is a practical option if you're embarking on a loft conversion.
When replacing your roof, you might also choose to change the guttering. Many homes have white uPVC guttering which can look unsightly after a build-up of dirt, so you might want to consider galvanized or aluminum box gutters to improve your home's aesthetic.
To help you consider your options, these are some of the materials you might consider for your roof. There are pros and cons to each, and some are more affordable than others, so commit to further research if needed!
Replace Your Windows And Doors
You can change the entire personality of your home with new windows and doors. You can opt for a more contemporary look, or you could purchase something that is more befitting of a certain style from a favored time period. However, it's not all about the aesthetic appeal. As with a new roof, new windows and doors can also improve the energy-efficiency of your home, especially when your current fixtures are old, worn, and prone to letting in cold drafts of air.
For more information, check out this guide on different types of windows, and have a look at these popular door designs. For more advice, talk to our team of expert builders at Stonik Services.
Add A Porch
Many people opt for a new porch as part of their exterior remodeling. Why? Well, it can add a new character to the home for a start, and it can also give a homeowner more space for storage. Some people consider a porch when their front door opens straight into a living room, as it can provide that extra shield to block out cold drafts, and to stop people from dragging dirt into the house.
When adding a new porch it is important to think about the size and style of your house. It needs to take a cue from the way the existing roof looks and angles, and it needs to complement the overall design of the property. Talk to our team of experts to find out more.
Other Renovation Ideas

When it comes to the exterior of your home, you could convert your garage too. The inside could be purpose-built in line with whatever you want to do with it, and the outside could be made to match the other surfaces of your home. You could also replace your decking or create a new patio from scratch, and you could even add new additions to the outside of your property, such as a new pergola. For more ideas, talk to us today, and check out our portfolio for examples of many of our home renovation services.
Get In Touch
So, are you looking to renovate the exterior of your home? If you are busy looking online for a 'remodeling company near me,' get in touch with us today, as we can provide a complete exterior renovation to homes in Macomb, Oakland, and Wayne counties in Michigan. We are experts at remodeling homes, so let us give your property the brand new facelift you are looking for!