There are some rooms in the home that we pass by every day without giving them too much thought. There are others, however, with which we have a very intimate relationship. The kitchen, for instance, is the heart of the home. A place where great food is made, savory scents and scrumptious tastes are enjoyed and memories are made by the whole family. Yet, while spaces like the kitchen and living room are very communal spaces, the bathroom is a space with which we have a much more personal relationship. The bathroom is so much more than a space where we go to get clean. It's a sanctuary. A place of solitude, contemplation and relaxation… although it also sees its fair share of romance from time to time. It's the place where we go to prepare for what the day has to throw at us. Or to unwind after the day is done with us. It's where we go for some quality time with ourselves.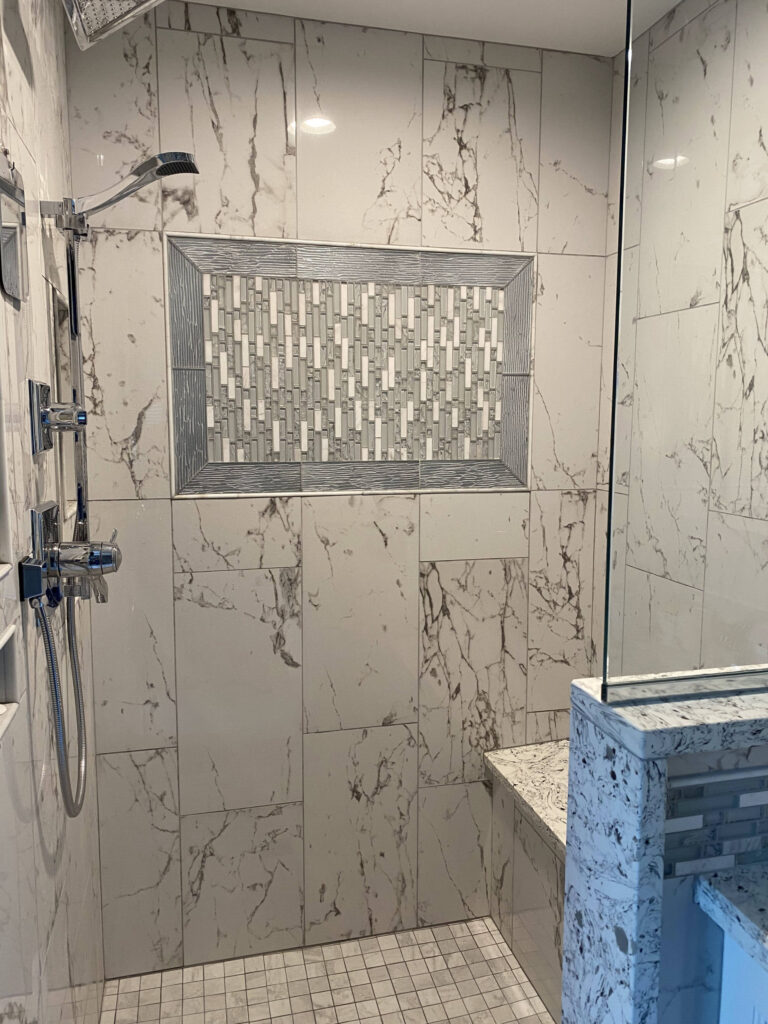 But, like any room in the home, the bathroom can start to show signs of wear and tear as the years go by. Mold can accumulate in tile grout and the sealant. Bathroom furniture like toilets and bathtubs can grow less reliable. Lighting can become less dazzling, making your bathroom look dingy and dirty rather than showcasing it. Ventilation can grow less efficient, making it much harder and more time consuming to keep it clear of mold, mildew and other nasties.
When our bathroom doesn't look as sparkling clean, welcoming and enticing as it used to, a remodel is just what you needed to give you back your sanctuary!
The challenges of a bathroom remodel
In a number of ways, the bathroom represents a more challenging remodel than any other room in the home. Why? Because you need to balance your creative whims and personal preferences with the necessities of your home's plumbing infrastructure. Not to mention keeping your remodel within your pre-determined budget.
At Stonik Services, we understand that there are a lot of factors that need to be considered when it's time to remodel the bathroom. From the practical to the creative, there's a lot that needs to be borne in mind. Which is why it's so important to find the right partner. A contractor who gets as excited about your ideas as you do, and also brings their skills, experience, and talent can make your dream a tangible reality.
We can help you with every stage of your bathroom remodel from design and planning all the way to implementation. Here we'll look at the necessary improvements that you'll need to keep in mind for a bathroom remodel.
Choosing your aesthetic
Although some like the whole mismatched look in other interior spaces, it's rarely a good fit for the bathroom. A good bathroom is a place of cleanliness and order, and a unified aesthetic just helps to tie all the visual elements of your bathroom together.
There are a number of different aesthetics to choose from. It all depends on your personal tastes. However, this will be the foundation on which you build your concept. So, what kind of bathroom best suits your home?
Traditional
Make your bathroom a place of invigoration with a fresh, clean aesthetic. Combine pristine white bathroom furniture with natural and neutral colors and materials. Think bamboo Roman blinds, wooden vanity units and marble effect herringbone floor tiles.

The plain white
Want to play it safe? Or are you thinking of the kind of broad appeal that will make reselling easier? Maybe you just prefer a minimalist aesthetic. In any event, a pure white bathroom is the kind of stylistic choice that will never go out of fashion, and ensure that the space always feels clean and hygienic.
Plus, white doesn't necessarily mean boring! You can always add colorful design flourishes that will provide a pop of brightness given their surroundings.
Vintage / industrial
There are many that prefer to look to the past when designing a futureproof aesthetic. The vintage/industrial bathroom is a cool and surprisingly contemporary choice. Think dark green or slate grays tiles, exposed copper pipes, and marble sinks. Anything goes with this aesthetic!
High-contrast
Contrasts of shapes, colors, styles and textures are always great for giving a space a little extra wow factor. In the bathroom you can create contrast between the color of your suite with the color of the walls and floors while also using your flooring and wall tiles to create contrasting geometric shapes and patterns.
The black powder room
If you're looking for a way to make a bold statement with your small or en suite bathroom, try turning it into an elegant black powder room! Use whites and golds in your furniture, faucets and fixings to create contrast and add a sense of sophistication.
You can even add brightly colored wall art, dried flowers and other colorful flourishes.
Planning & Designing your dream bathroom
Once you've decided on your desired aesthetic, we'll work with you to ensure that the planning and design of your bathroom remodel matches your creative expression perfectly. We'll also help you verify that everything works well with the logistical considerations of your space.
The soil stack
The first step is identifying the location of the soil stack. This is the most important pipe in the bathroom, because it connects your sink, bathtub and your toilet. In most cases, the soil stack connects through the exterior bathroom wall, running down the outside of the property and up to the roof where it can vent odors. The location of your soil stack plays a huge part in determining what can go where.
You can change the position of the soil stack. But it's best to work with it where possible. Otherwise it can be a labor intensive and time consuming effort that eats up a lot of your budget. With that in mind, we usually recommend leaving the toilet where it is, although with enough forward planning we can always find a way to make everything work.
Space
You'll also need to consider the space that's available to you. You wouldn't want to end up hitting your sink or bathtub with the door every time you walk into the bathroom!
Pipework
As long as the soil stack and toilet remain where they are, making changes to the rest of the pipework is much easier. However, we'll also need to consider the impact on your water pressure. A loss of pressure can turn your shower into an underwhelming drizzle or set your toilet to "stun" when it should be set to "kill".
The easiest (and most cost effective) way to remodel the bathroom is by installing the basin and toilet in line with the bathtub, so they can be served by the continuous water feed pipes in the walls for consistently robust pressure.
Bathtubs and showers
Needless to say, we can't talk about the bathroom without having a conversation about bathtubs. Even if you prefer to shower, it's much better to have a bath tub and not need it than to need one and not have it. After all, what's more satisfying after a long, hard day than a leisurely, blissful soak in the tub?
As well as the style of the tub, you'll also need to consider the location of your tub and the size of the space. A freestanding clawfoot tub is can lend the space a glorious vintage aesthetic. But it can also eat up space.
You'll also need to consider the materials. A cheap acrylic bath tub can be picked up for around $100 but it'll start to show its age very quickly. Likewise a cast iron tub can bring the wow factor, but they are inherently cold and their glossy surface can become dulled if you use an abrasive cleaner.
You'll also want to make sure you invest in a good shower unit. After all, there's nothing more frustrating than a bad shower. A power shower connected to an integral pump can give you a great flow rate and a satisfying experience. There are even a wide range of digital showers that allow you to customize your shower experience.
If you want to install a walk-in shower or wet room as opposed to a shower that's integrated into the bath tub this can be achieved, but you should consider the implications for your usable space (and your budget).
Sinks & Vanity units
Along with your bath tub, your sinks and vanities play a vital role in giving your bathroom its sense of character. You have a choice of pedestal, semi-pedestal or wall mounted basin if you'd like a standalone sink. Alternatively, however, you prefer a sink that's integrated into the vanity unit itself.
From enamel and porcelain to toughened glass to stone, and even wood there are a multitude of materials to choose from when selecting a sink. You need to find the right balance of longevity, durability, ease of maintenance and of course visual appeal for your personal tastes.
Toilets & Bidets
You may be surprised by how much there is to consider when choosing a toilet. As well as the design of the bowl itself, you'll want to consider whether you want the cistern to remain visible or  hide it behind a stud wall.
The addition of a bidet in your bathroom can lend it a touch of class, as well as being good for personal hygiene. While they'll need to be factored into your space availability, budget and water pressure, they can really add value to the space.

Walls & Flooring
The way you decorate your walls can complement and showcase your bathroom furniture, and enhance the overall effect of your bathroom remodel.
Tiles are highly durable, waterproof and available in an enormous range of colors, textures and styles. However, they are expensive and time consuming to fit. Especially if you're using them throughout. Plus, without sufficient ventilation, you may find that mold accumulates in the grout between tiles.
Painted walls, on the other hand, can really make the most of your space and help your suite stand out. Bathroom paint comes in a wide range of colors and finishes and is specially formulated to withstand the heat and moisture you expect in the bathroom.
PVC wall panels are quick and easy to install, no matter what you have underneath. They are impervious and provide excellent waterproofing. But they can cheapen the aesthetic and reduce the impact of high-end bathroom furniture.
When choosing your flooring you have a range of options from vinyl to tile or even wood. Engineered hardwood will not warp in a moist environment like a bathroom, unlike its hardwood counterpart.
You'll need to consider a range of factors when choosing from waterproofing to slip proofing to how it feels underfoot and, of course, how well it complements your bathroom aesthetic. You may also want to consider underfloor heating for those chilly winter mornings.
Lighting
Lighting is also very important as it will showcase how beautiful your bathroom looks.
And this starts with making the most of the natural light available to you. Not only does natural light make your bathroom look clean and fresh, it also repels mold.
When it comes to your artificial lighting, use a combination of different lighting types and sources. Wan bathroom light can make everything look sickly, yellowish and unclean.
Use your downlighting for general background lighting. You can then add up-lights and accent lights to enhance the aesthetic and draw attention to the different features in your bathroom. Adding tack lighting to your mirrors and vanity units will allow you to get a clearer, sharper picture of how you look!
Ventilation
Finally, it's vital to remember ventilation. This is especially important if your bathroom doesn't have a window. The better ventilated your bathroom is, the less you'll have to worry about mold, mildew and other unpleasant fungi.
Why choose Stonik Services for your bathroom remodel?
If you're looking for a reliable, registered and highly experienced contractor for your bathroom remodel project, you've come to the right place! Look no further than Stonik Services! Since 2006 we've helped a wide range of customers all over Macomb, Oakland and Wayne counties to bring their home remodel and renovation dreams to life.
Our team of skilled contractors love nothing more than working with clients to make their vision a reality. Don't take our word for it! Everyone knows the proof is in what your customers say about you! Take a look at some of our testimonials from happy clients all over the state.
We can't wait to show you what we can do with your bathroom!
Contact us today to arrange a free and zero-obligation estimate.