Cabinets are a common part of kitchen remodels. The right cabinet can significantly enhance your design and add value to your kitchen remodel. Therefore, homeowners are likely to consider their choice of cabinets when they are changing their kitchen. When you discuss your project with a professional kitchen remodeler, you'll be asked whether you prefer cabinet refacing or cabinet refinishing if you're keen on keeping your existing structure. What does it all mean both in terms of look, results, and budget?
Here at Stonik Services, our kitchen remodel contractor team has created a simple guide to tell the difference between refacing and resurfacing and help you make decisions.
With over a decade of experience in remodeling and kitchen cabinet resurfacing in Clinton Township Michigan and surrounding areas, we feel confident in helping you make the right choice for your budget and vision!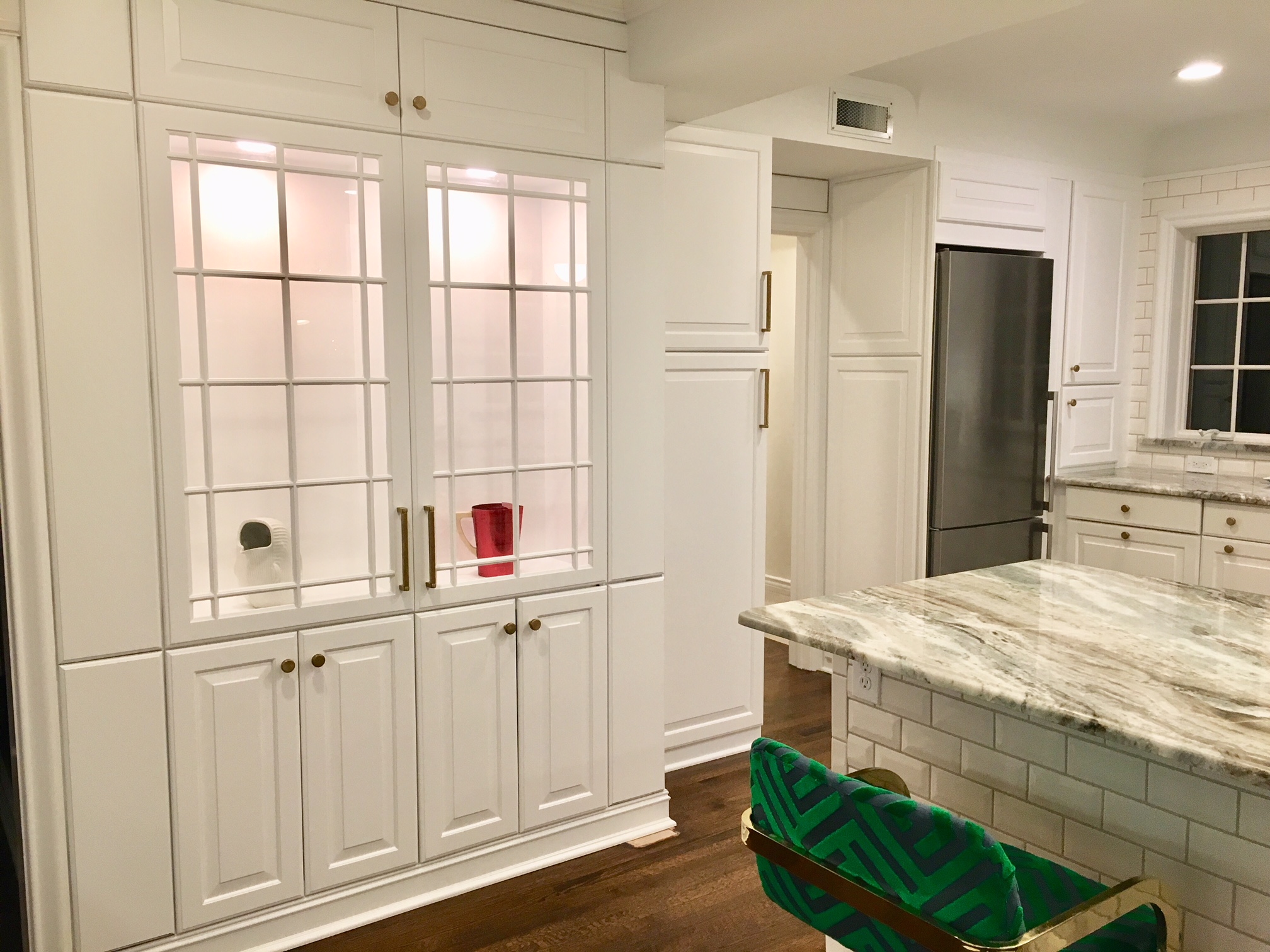 Cabinet refacing vs. refinishing vs. new cabinets
The first and most important thing you need to understand when a kitchen remodeler raises the subject of refacing or refinishing is that these approaches do not require buying new cabinets. The refacing/resurfacing or refinishing process uses your existing cabinet. Because you don't need to invest in new cabinets, these options are a more cost-effective solution for extensive kitchen remodels. They are fantastic alternatives to stick to your budget and reduce costs. For homeowners going through a full kitchen transformation, it's a sensible budget solution that kitchen remodel contractors like to suggest. Both cabinet refacing and refinishing enable you to change the appearance of your kitchen elements and transform your interior completely!
In which case should you consider purchasing a new set of cabinets rather than using those you already own?
There could be a variety of scenarios in which cabinet refacing or refinishing may not be a suitable approach to practical kitchen remodels. A frequent situation where it makes sense to buy new cabinets is when your existing units are too damaged to reface or refinish.
These remodeling practices change the look and feel of your cabinets. But they do not affect the storage function. If you are worried about storage space in your kitchen, you should discuss your options for additional storage. However, an experienced kitchen remodeler can help free up additional storage without necessarily bringing an extra cabinet to the room! Indeed, you may not need additional elements to create a more organized kitchen! These are all things that a professional contractor can help you understand.
My kitchen remodeler suggested door refacing
You've shared your expectations and dream of a new kitchen, and your kitchen remodel contractor mentioned door refacing or resurfacing. What does it mean, and why is it a good idea?
What does cabinet door refacing mean?
Cabinet refacing or resurfacing (these terms are interchangeable) refers to the process of transforming the surface of your kitchen cabinets. When a kitchen remodeler refaces your cabinet doors, they essentially replace the existing surface material. The process can be used on cabinet doors, drawer front, but also side panels, face frames, and moldings. Once completed, it will make your cabinet look entirely different.
Typically, refacing is performed on surfaces made with laminate or wood veneers.
Why do I need cabinet refacing?
Because you are replacing the existing surface, you can give your old cabinet a new life. It is the preferred option to remove signs of wear and tear on a kitchen cabinet. Remember, though, that as mentioned above, our kitchen cabinet resurfacing Clinton Township Michigan clients need a functioning unit. Damages to the surface can be removed and masked through resurfacing. Yet, internal damage and structural weaknesses can't be resolved through cabinet refacing. If the structure is compromised, your kitchen remodeler is likely to recommend changing the unit altogether.
As long as the structure of the cabinet is intact and solid, refacing makes good sense. The process can significantly prolong the life of your kitchen cabinet without breaking the bank. We've seen many homeowners assume wrongly that a kitchen remodeling project means getting rid of the old to make room for the new. On the contrary, with the refacing process, you can inject new energy into an old kitchen cabinet and make it feel like new again.

What can I achieve with cabinet refacing?
Resurfacing your cabinets can give you an immediate style update. The wood veneer cabinets you chose decades ago can be made relevant again with a stylish and contemporary surface. In other words, refacing is a smart decision for homeowners who seek an updated kitchen look and feel without getting rid of the units and appliances that still provide suitable functions. At Stonik Services, we also recommend this strategy for new homeowners who have bought an old property with an outdated style and units in good working condition. The process can give you a fresh and modernized look with minimum efforts.
You can also use cabinet refacing to transform the mood in your kitchen. For instance, a dark kitchen that receives little natural sunlight through windows or skylights can maximize brightness with cabinet resurfacing. Changing a dark cabinet front for a light wood veneer will create the sensation of a bright and partially sun-bathed room, even for a north-facing kitchen.
Lastly, it is also a good idea to apply refacing to blend your appliance style to your cabinet units seamlessly. Sleek, stainless steel appliances can feel out-of-place if your cabinets don't match the style. Yet, a matt and monochromatic resurfacing job can bring the modern fridge and hub in a positive light!
My kitchen remodel contractor suggested cabinet refinishing
You want to keep your kitchen cabinet in your new design. Yet, your vision doesn't match the current look and feel of the units. The kitchen remodeler recommended cabinet refinishing to tackle the issue. What does it mean, and why did they suggest it to you?
What does cabinet refinishing mean?
Unlike resurfacing, which replaces the existing surface, refinishing works directly onto the surface by stripping the door, drawer front, or side panels of their initial color. The process will then apply a new color to transform the appearance of the surface. However, it doesn't change the material.
Typically, cabinet refinishing involves hand sanding or the use of chemical products to strip the initial color. You can then add paint to achieve the desired effect. For wood-based surfaces, you can also choose to stain the wood to transform its appearance.
Who needs cabinet refinishing?
Kitchen remodels embrace refinishing to transform existing units and make them fit into a new interior style and concept. It is worth mentioning that internal damage and structure weaknesses are unlikely to be addressed through refinishing. Your existing units should be in good condition. As the process doesn't mask the surface, it can't hide deep scratch marks and wear and tear signs. Minor marks can disappear during the sanding step.
Ideally, we prefer to suggest refinishing to clients who only need a change of color or wood theme to their cabinets. While the possibilities may seem endless, it is essential to know that it can be tricky to go from a dark color to a light one. The initial dark hues may still be visible underneath the new paint.

What can I expect from cabinet refinishing in a kitchen remodel?
A cabinet refinishing can give you a vast choice of options to create your dream kitchen. While we don't promise that you can do anything you want, you can achieve surprising style updates through this simple process.
You can use refinishing as a way to create colorful accents in your kitchen remodeling project. Homeowners who invest in appliances in a playful theme, such as bright red or yellow units, can use this method to mix and match their cabinets to the rest of the kitchen. With paint, you can get almost any color you want, which provides sufficient options to adjust to most styles and needs. However, bear in mind that you'll find it a lot easier to apply a darker hue to a lightly-colored surface than the other way round.
Wood staining is another popular approach in refinishing to lighten up dark cabinets that could feel dated. It is also useful to bring a luxury feel by making your cabinet units look like expensive wood.
Some homeowners also use cabinet refinishing to stage a playful and dynamic scene in a kitchen that would otherwise feel overloaded with storage units. Introducing a colorful gradient on your doors and drawer fronts or disparate color focus can inject new life into your room.
Can I DIY my cabinet resurfacing or refinishing?
It can be tempting for craft enthusiasts to get involved in kitchen remodels. We do not recommend a DIY approach if you are not familiar with painting or sanding. Yet, if you are confident with simple home improvement tasks and craft works, you can update your cabinet units yourself.
Cabinet refinishing projects are suitable for experienced DIYers. It is a cost-saving and simple creative project that lets you update your kitchen look and feel. One word of warning: If you are in the process of planning a full kitchen remodeling project, it is a good idea to leave refinishing to your kitchen remodel contractor to make sure your cabinet will match the finished kitchen.
On the other hand, Kitchen cabinet resurfacing is a complex project that requires professional tools and know-how. Our Stonik Services contractors frequently complete kitchen cabinet resurfacing in Clinton Township Michigan and surrounding areas for our clients as part of their kitchen remodels.
Which one should I choose?
Both cabinet refacing and cabinet refinishing have their limitations. Understanding challenges and obstacles can help you make an informed decision about your kitchen remodel.
First of all, neither is suitable to handle damaged cabinet units and fix structural issues.
Cabinet resurfacing commonly uses wood veneers, rigid thermofoil, and vinyl laminate. If you are going to resurface a wood cabinet, chances are that your kitchen remodeler will replace the door or the drawer front for best results.
Cabinet refacing is a cost-effective option to eliminate damages to the surface without changing the entire unit. You can expect to pay approximately 20% to 30% less with refacing than you would if you replaced the cabinet.
On the other hand, cabinet refinishing is cheaper than resurfacing, as most refinishing projects come up at two-thirds of the cost of refacing. If you consider that with cabinet resurfacing, you'd be paying only 80% of the price of installing a new unit, refinishing costs are in the range of 50% of a new cabinet value. It is a significant element to consider when the budget is a decisive point.
Unfortunately, while refinishing is cheaper, it can be challenging on some materials. You can't refinish cabinets made from vinyl laminate or thermofoil. Indeed, it is impossible to strip color from either of these materials. Additionally, they can't even be sanded! Paint doesn't stick to the surface, making it hard to transform! These materials definitely have their place as they are easy to clean and harder to damage! These are all things that you can discuss with an experienced kitchen remodeler to find the best option for your cabinet update.
Staining wood can add a stylish effect to a refinished cabinet. However, Oakwood cabinets can't be refinished effectively through staining or painting as the grains continue to show right to the surface. We also thought we'd mention it: You can't stain MDF surfaces as it is not real wood!
Why trust us with your kitchen remodels & kitchen cabinet resurfacing in Clinton Township MI
At Stonik Services, our crews are made up of experienced kitchen remodelers who have handled a variety of designs in their careers. As such, we rely on their know-how and passion for home improvement to help our clients in Clinton Township, Michigan, and in the surrounding areas, achieve the best possible results for their kitchen remodel projects!
Our team is more than happy to handle all your needs in terms of cabinet refacing and even cabinet refinishing as part of your new kitchen design. We always listen to your vision to respect your choices! We would love to offer an appealing solution for your household kitchen! Don't take our words for it. Trust our clients instead!
Want to find out how we can remodel your kitchen and resurface your cabinets in the process? Get in touch, (586) 872-3532 for a free quote.